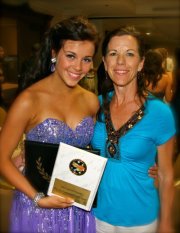 By Anne Ross, Ross Family CEO and Co-Entrepreneur
Anne and her family first consulted Creative Marbles Consultancy in her daughter's junior year. She graciously agreed to submit a guest post to share her insights to the college admissions process from a parent's view.
I was asked to give a parent's perspective and first thought, "Wow, that is a tall order," but then when I thought about it, I felt that it is the least I could do. Creative Marbles Consultancy has helped us in so many ways, and the most important is that they gave our daughter, Caitlin, a bigger view of the possibilities for her future. Caitlin had as a Freshman and up until her Junior year in high school been researching universities and majors, but by the time she was finishing her Junior year she had resolved to her only choice of college was junior college. When we first met with Jill, it was because I had a free one hour consultation gift certificate. After the first 30 minutes, I was so impressed with the questions that she was asking our daughter and the answers that Caitlin was giving, I wanted to go back to college because it was so inspiring. This first meeting with Jill opened up the door to other possibilities and a more positive outlook for Caitlin.
As a parent, I have only until she is 18 years old to make a big enough and a positive impact to last her lifetime. Although this past year has been a lot tougher than I thought, it has been worth it. All through the nudging, prodding, restricting, rolling of the eyes, frustration, worry, there is hope and I know what needs to be done. I am not my child's best friend nor do I want to be, well, at least not yet. It's just like having to make them eat their veggies; some things you have to do to get to where you want to be.
Jill and Art have been extremely helpful. They gave us a much deeper college selection and application process. Jill really pulled out of Caitlin who she is as an individual and how she can make an impact on her future with the essay writing process. Jill has such a calm and powerful way that although Caitlin might not like the task at hand, she knows that Jill is there by her side helping her to do her best. They have also helped us with dealing with the public school system and how to advocate for our daughter. If we had not hired Creative Marbles Consultancy we would not have had the pure joy of our daughter receiving an acceptance from Baylor University AND I know that we did right by Caitlin in having Jill and Art guide us through it all. And, for that I am forever grateful. Thank you.
Photo Credit: The Ross Family 2012