I was sick last week and found myself monitoring the flu activity in Sacramento, CA.  I wasn't too concerned until a friend brought to my attention the NYTimes January 9, 2013 front page article, and top two emailed story, Flu Widespread, Leading a Range of Winter's Ills.  Concerned, I got to writing this post, hoping I can inform our blog readers, especially those with children.  At school, students sit 8+ hours a day within a classroom setting of 30-40 students regularly rotating through multiple classrooms–sharing desk space, food, and socialize within close quarters–increases the likelihood of spreading and catching the latest round of influenza (a.k.a. the flu).
How contagious is the flu?  See for yourself.
The following graphs is from Google.org, Flu Trend, showing searched results for flu activity in the United States for the past 6 years.  The dark blue line is flu activity for 2012-2013, whereas the lighter blue lines are for the previous 6 years.  Below, viewers can see that the United States is going through an "intense" surge in flu activity.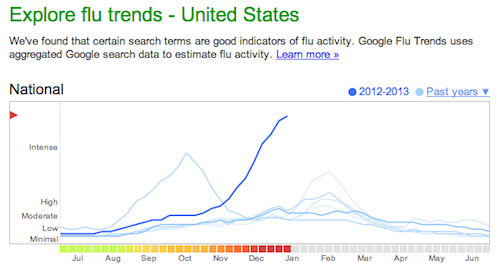 Below graphs is flu activity by state, one was taken on January 9, 2013 and other on January 17, 2013.  A light red indicates "high" flu activity, whereas a dark red indicates "intense" (or greater than "high") flu activity.  Within a weeks period of time, viewers can see California and the entire United States undergoing an "intense" surge in flu activity.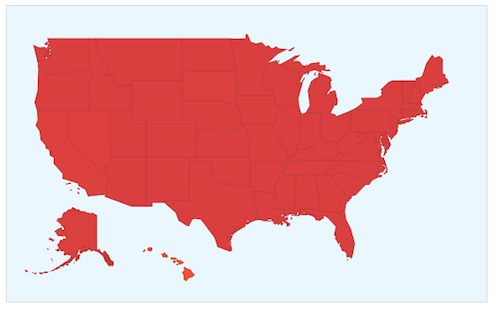 Google.org, Flu Trend search on January 17, 2013.
Observe how California and a hand full of other states, once considered "high" in flu activity have now moved up to "intense".
Readers can also compare Google's Flu Trend map to that of the Center for Disease and Control Prevention's (CDC) Flu Trend map.
Be Gone, Flu/Influenza.  Now, if I haven't scared you into not reading further, I've included a short list of hygienic practices students or anyone can do now to either reduce or prevent the likelihood of getting sick (and for some, sick again).  There's nothing worst, or near there, than having to concentrate with meaningful interactions in complex group projects or learn new theories while fighting a cold.
Get vaccinated with the current flu shot
Cover your coughs
Wash hands, and often (keep your hands soapy for two whole "Happy Birthday" songs)
Avoid touching your eyes, mouth and nose (that's how the buggers get in)
Keep distance from those sick
Wipe commonly touched surfaces, increasing cleaning frequency when someone in the house is sick
And don't forget to take your daily vitamin C's & echinacea to keep your immune system strong.  Good luck and stay healthy!
For more detailed references, please also visit CDC's Seasonal Influenza: Flu Basics.