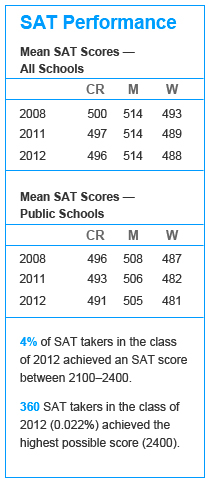 Ok. Ok.  Mention the SAT to any senior and their parents, then take a step back.  The anxiety of a 3 hour and 45 minute test, on top of the concerns about being accepted to a college or not, with the effort of 16-17 years worth of homework and driving all over the state for sports tournaments, as well as $1000's for college campus tours while "vacationing"  can create a variety of reactions.    While the SAT's and ACT's scores are ONLY ONE part of the overall evaluation of an applicant for college admissions, the attention given through media and the college admissions offices websites can misconstrue their importance–further feeding any anxieties.
The College Board reported the averages pictured above for the Class of 2012.   While the majority of students share with us that below a 500 score on a section of the SAT is "bad" (translation: not going to get me into ANY college), the average scores of all SAT takers for the last three years has been in that 500 score range.  Plus, the 4% who actually scored 2100-2400 is only 66,400 students nationwide–meaning those folks scored at least 700 per section.
What this means for most test takers: if you're not in the 2100+ score range, you're not alone.   So, you can put perspective around the test itself.  Also, average scores don't mean "I won't go to college"; it may mean "I have to pay more attention to selecting the colleges for application", which has the added bonus of finding a valuable experience at the price you (and your family) are willing to pay.