About the author:  Rocio and her eldest son, Daniel, worked together to successfully navigate the college admissions process.  (Not a simple task for any teenager and mom duo). They asked questions, thoughtfully considered editing suggestions to write 21 college essays and faced 7 acceptances in the Spring of 2015 before choosing New York University.
Rocio discusses her thoughts about watching Daniel mature and leave the family nest.
_____________________________________________________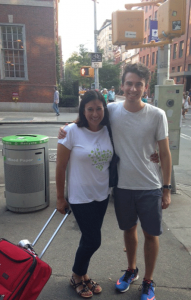 It is August 29, 6:30 pm and I just left Daniel at his college dorm – NYU (New York University) to be exact. This morning I was a nervous wreck, not knowing how I would be able to walk away from him. I have protected him and guided him to this point since the day he was born, and suddenly within seconds we hugged, and we both walked away, me to catch my train and he back to his dorm. It was easier than expected, because at the end of the day I realized what a wonderful place NYU is and that Daniel truly belonged there. I was a proud parent.
His senior year was the culmination of 17 years of hard work. From Day One, I taught him that knowledge was power and is one of the few things that nobody can take away from him. Call me crazy, but early on I mapped out a long term plan, knowing full well that the college application process actually begins much earlier than the senior year. Since Kindergarten, I made it a point to be involved in his education and recognized early on that academics was not the only factor that would be important by the time of applying for college. I gave him the freedom and encouragement to explore as many interests outside and inside the classroom in the hopes that he would find his inner fire that would fuel his ambition of personal development.
As Daniel grew older, college was always a part of our conversation. I showed him the importance of being connected to his community by being an active member of it, not just for the sake of how this will be viewed by colleges, but as part of his personal growth and enrichment. He helped me cook at our local church to feed the homeless – and I am happy to say that he wants to continue doing this at the local church and serving at the soup kitchen in New York.
His senior year came sooner than expected. He prepared for the various tests he needed to take. We visited various universities in California and on the east coast. I helped him do research on all universities to see if he had the right qualifications. Once we knew he fit the profile, he contemplated about all the essays he needed to write. He wrote the first drafts of his Common App essays on his own, since this was his journey and own story to tell.  He did struggle quite a bit in telling his story. As a mom, I felt frustrated that at this point I couldn't help him. However, many nights were spent brainstorming together, going over his story. The first essays were the hardest – but as he continued on, his writing became more fluid. Of all the essays that Daniel wrote, the one that truly captured his essence, was the one he wrote for NYU. And amazingly, this essay was the one he had the least problems with.
My journey as an involved parent continues on, as I will get to do this all over again in 6 years! But this time I am ready and so is my second child.