Looking to move to or prospect for a college in some far away, unfamiliar state, and weighing the costs and benefits of living in said state?  Perhaps, the following "Health Risks By Area" chart, pinpointing five health risks by state, may help in those difficult "which state to live in (temporarily or permanently)" discussions.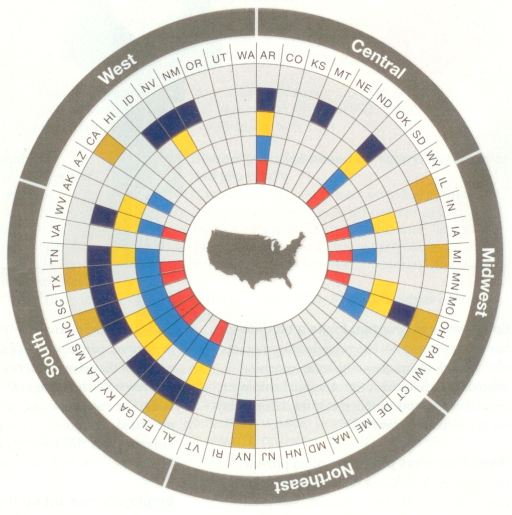 Obesity:  where 30% or more of the adult population is obsese

Diabetes: Where diabetes affects 9.5-12.4% of adult population

Smoking: Where 20% or more of the population smokes cigarettes

Arthritis: Where 35-46.6% have arthritis-attributavle work limitations

Cancer: States with more than 50,000 new cancer cases
Image & Reference Source: The National Federation of Independent Business (NFIB) published in their Dec 2012-Jan 2013 Magazine.  NFIB sources: Centers for Disease Control, Trust for America's Health, Robert Wood Johnson Foundation, Kaiser Family Foundation, South Carolina Health Research Center, Nature, American Cancer Society.